The Northern Wisconsin Kayaking Fishing Blog
Please check out our blog to gain valuable information on gear and tackle reviews, local fishing tales, and other important announcements.
COMBAT FISHING SMALLIES!
"How much further through the woods do we have to portage?" I whined.
"Just a little further!" shouted back Jim.
The trail was long, and my water sandals sucked for walking through the woods. Thankfully our rigs were mounted atop wheels, for easier pulling.
On the half-mile long trek through the woods, I silently prayed to the Fish Gods for a safe, successful adventure. Just getting to the water required more energy and effort than I am used to. And not every fishery exploration like this can pay off. Most of them actually fail to meet expectations.
10 minutes later, we reached the shoreline of our destination. A pristine, secluded, and heavily protected waterbody located in the middle of nowhere in Vilas County, Wisconsin.
On our agenda was the pursuit of our favorite sport fish, smallmouth bass.
Not much larger than 120 acres, with visibility of 20+ feet down below, and home to a catch and release-only population of trophy smallmouths, this was a special fishery that maybe 1 of every thousand anglers could get into.
It's a public water, but a pain in the ass to get into as I experienced. From my driveway in Minocqua to the access site, it took over 90 minutes of travel, off-roading, and portaging through the woods.
Kayak fishing guides and outfitters like Jim Riley have found ways to access these types of fisheries, easier and more efficiently than you or I ever will.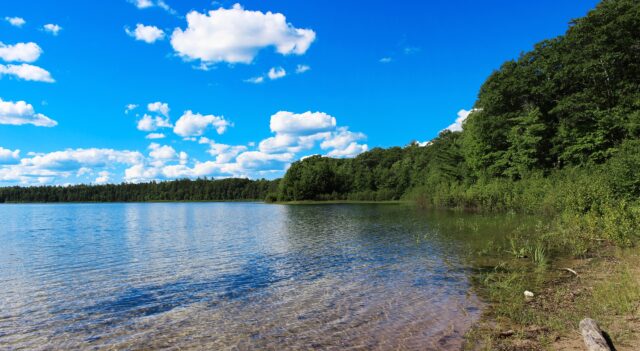 Northern Wisconsin Kayak Fishing
Jim Riley, a full-time global hunting and travel outfitter for over 20 years (Riley's Outdoor Consulting, LLC), has kayak fished the country from coast-to-coast since 2008. His wife's (Jane) retirement from serving the Air Force for 27 years brought them back to the Northwoods, where they now spend their full summers at.
"Choosing Northern Wisconsin was a simple choice as my wife's family has a cabin in the area. I fell in love with all of the productive smallmouth bass lakes that were so conducive to kayak fishing," he summarizes.
Based out of the town of Boulder Junction, WI, Riley's all-inclusive fishing operation, Northern Wisconsin Kayak Fishing, focuses on destinations with quality fisheries the majority cannot get to.
"Because we fish with human-powered kayaks, we can access several lakes that rarely see visitors or boat traffic," he says.
"Most lakes we fish are under two hundred acres in size. As a result, we can arrange a trip to a no-wake or no-motor lake for an exciting day of fast-action fishing!" he proclaims. "Not only are these lakes peaceful, but they are also usually very productive!" he concludes.
As I got to experience this early June morning, nothing is more peaceful than slipping a kayak into the pristine waters and pushing off with a paddle. Best of all, I had zero clue of what to expect for the next 4 hours.
I just hoped I wouldn't flip the vessel over into the water. Or lose either of my St. Croix rods overboard to the lake.
Like he does with all of his clients, Riley worked with me for 5 minutes to so I could settle in and acclimate with the kayak, to learn the basic fundamentals of stability and paddling, before any fishing began.
For the first time in several years my life had slowed down. I was operating without a boat and motor. There was no fish locator and other marine technologies to rely on. No Sirius XM sports talk-radio or rock music to listen to while fishing either.
Most of Riley's trips are this solitary and serene. The cries of loons and the splashes of smallmouth bass waking me up would be all we'd hear.
Casting black Z-Man Finesse TRD's with tungsten heads to the wood-laden sand bottom shorelines, Jim hooked up quickly with a pair of 17 and 18-inch smallmouths.
Most trip days he will only fish alongside the client until a hot bite gets found. Since we both had the day off, I gave him a free pass.
"Smallmouth bass reign king of the region!" he shouted from 50 yards away.
Kayak Combat Smallmouths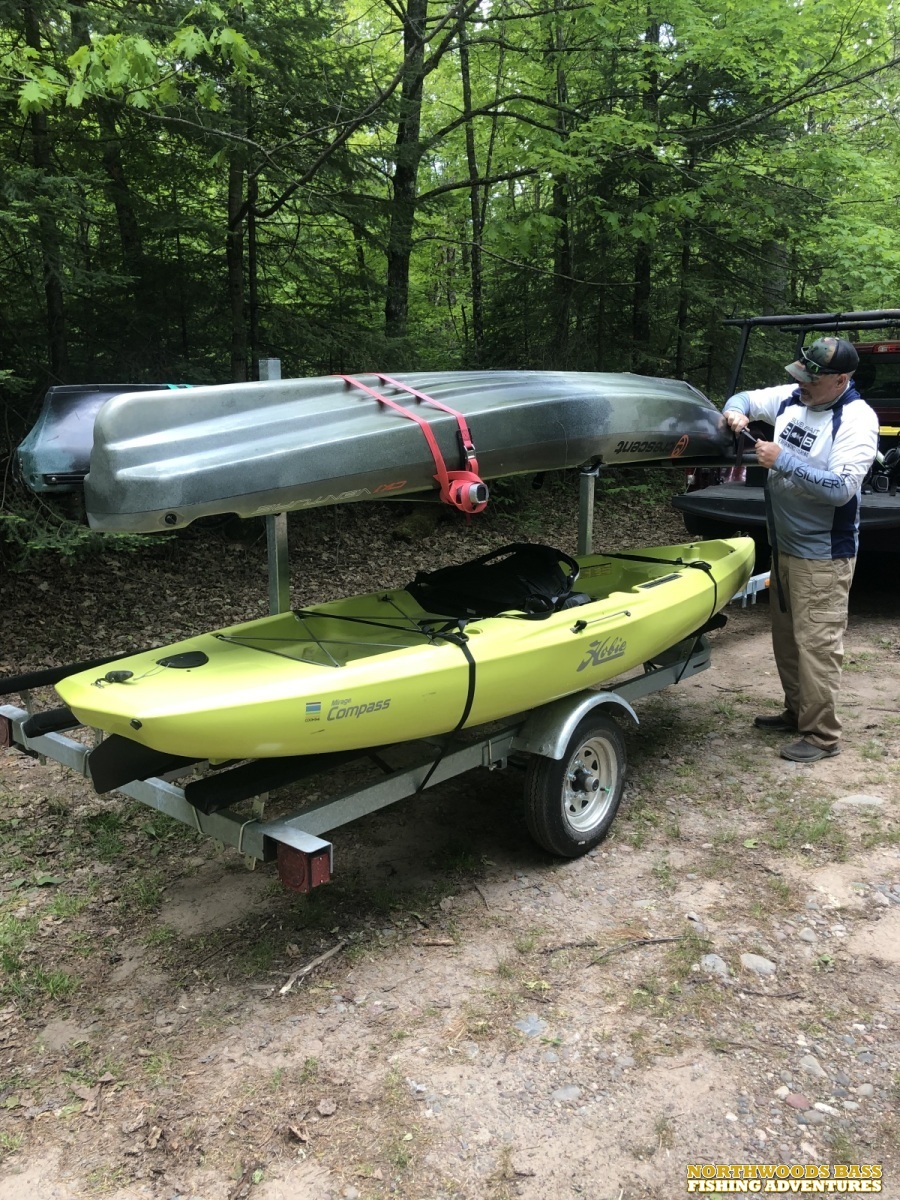 Accessing Public Waters
The beauty of kayak fishing is the adventure of creating your own access sites from public lands. No other watercraft makes this a reality.
The process of accessing waters can be tedious and painstaking, as I experienced. Places like the 120 acre lake Jim took me to are very hard to get to, while others located nearer roads are much easier and convenient. Riley relies heavily on mapping resources and transport equipment to make his access substantially easier or to create his own.
In this fishing region we have over 5,000 waterbodies to choose from on a daily basis. Where and when to go is a question of selection and making a calculated decision.
Guides must invest the same amount of time into trip planning and research off the water as they do on the water.
"I take a multi-pronged approach to my scouting strategy," says Riley. "When I decided I was going to target big bass in Northern Wisconsin someday, I was a thousand miles away in my office in Colorado at the time. Naturally, I hit the web and searched out every guide report and magazine articles (finding you), and resort reports. I then looked at every YouTube video that had anything to do with trophy smallmouth fishing in the area. Then I studied the WI-DNR website. I focused on lakes in this region. The Wisconsin DNR site gives a plethora of information on many lakes including fish populations and access sites," he summarizes.
Riley then arrived in the north country with a hitlist of lakes that he had to spend some time on. "The last item of business was hitting the water for some paddles-in-the-water theory testing!" he says.
"Because I fish several lakes that are deemed 'no motor' lakes, they normally don't have improved launches or any at all. We often pull the truck up as close as we can and then carry the boat to the water. If there happens to be an improved launch, I am able to back my kayak trailer into the water and wet launch," he describes.
Riley also accesses fisheries requiring the addition of a wheeled cart to the underside of the kayak, to be able to hand-tow his rigs through the woods to the water's edge.
What Riley didn't mention is how drainage lakes can be accessed from feeder creeks and streams where you could then paddle through, up to a mile or more, into them.
Difficulty of access can correlate to bigger bass and better quality fishing and fisheries, but is not always the case.
"I know for sure my confidence goes way up when I have to work hard to get into a lake," Riley admits. "But let's face it, the really big smallies are most likely to be in waters with big, oily, baitfish," he concludes.
For example, Riley's two personal-best smallmouths were captured from completely different types of access lakes. "One was a quarter-mile portage, and the other was within sight of a major highway. Both lakes are loaded with ciscoes," he affirms.
Often, wind and weather conditions will play a major role in determining lake selection, the logistics, and trip itinerary.
If wind is problematic for boat control, never use an anchor. "I like to drift using the wind," he says. Riley paddles upwind from where he wants to fish and drifts back. If he needs to, his pedal-drive Hobie enables him to be stationary.
Throughout the Northwoods, there are several small, sheltered lakes where Riley and his clients can sneak back into to fish comfortably. He turns to these waters whenever the wind boots them off bigger lakes.
"When guiding for smallmouth bass, I like to stick to lakes under 300 acres – even better if less than 150 acres," he says.
Smaller waters are easy to navigate, allowing you to stealth into tight areas where smallmouths lie.
Riley admits he would like to be able to guide on river systems and their tributaries but it takes a very skilled kayaker and experienced client to allow him to fish thoroughly on his favorite rivers. River fishing is not for beginner paddlers.
Riley's Rigs
A member of the Hobie Kayak Fishing Team, Riley furnishes his clients with multiple kayaks.
"For tournament fishing and for my lead boat I use a Hobie pedal kayak. I like to keep things simple for clients and put them in one of my paddle kayaks," he says.
Riley rigs his setup with a crate with rod holders attached, and storage room for several 3600 Plano Stowaway boxes. He often attaches his portable Lowrance Elite unit too. In addition, he prioritizes storage space for a rubber landing net and his safety equipment that includes whistle, phone, lights, first aid kit, and rain gear.
Nowadays, purchasing and equipping kayaks can cost substantially more than buying a boat. If our smallmouth trip proved anything, one does not need a several thousand-dollar rig or the technology to catch fish.
"I always recommend newcomers to start with a good kayak that they will be able to sell when they want to upgrade. Start with a paddle kayak to see whether kayak fishing is for you," he suggests.
Riley favors sit on top kayaks because the scuppers offer you safety in rough conditions.  However, he also keeps one sit-inside kayak for clients that just feel safer in them.
The 14 foot Crescent Venture I fished from was spacious, stable, and comfortable to sit in.
"If you have the desire and the means I think the Hobie Outback or Pro Angler are the pinnacles of kayak fishing yaks. It took me ten years to switch to Hobie and I will never go back," Riley admits.
Gadgets like fish locators are not needed, but the Navionics Boating App for phone can be an invaluable asset if fishing larger waters and offshore.
And always wear your life jacket!
Kayak Combating
As our morning on the water progressed and the sun rose higher, the lake came to life. Now it was my turn to hook up.
It happened over 40 more times until our cutoff time of 12:30 pm.
I needed only one rod and reel, and bait, the entire trip.
Atop the kayak, the fight with a smallmouth is an up-close personal feeling. It's more intimate than standing atop the casting decks of my Ranger.
"I love how the hit and how an average-sized fish can pull your kayak," says Riley. Indeed every 14 to 18 inch smallmouth I hooked into pulled me around.
Not only did kayak fishing with Riley slow down my fast-paced life, it also forced me to drastically downscale my fishing gear and tackle.
For this trip, and knowing I would be fishing from a sit-in vessel, I settled on two multi-purpose spinning outfits per his suggestions. One for jigging and finesse, and the other for casting.
A 2.75" Z-Man Finesse TRD in yoga pants did the entire morning's work for me, fished with a St. Croix Victory Finesse VTS71MF. Spooled up with 10 lb. Cortland Masterbraid in high-vis yellow to detect bites on a size 20 Quantum PT reel, the setup is lightweight, sensitive, and well-balanced. This rod is well-suited to casting and jigging applications and handles 4 and 5 pound smallmouths without issue. It can also do more and work the drop shot rig too, which Riley relies upon heavily on his clear water smallmouth fisheries.
If I ran into any casting scenarios in which the wind or fishery told me to attempt, I had my multi-purpose 7 foot MHF Avid with size-30 Quantum PT reel aboard with. But I didn't touch this setup once. Riley recommends an all-purpose setup like this in the event paddletails, topwaters, or other horizontal presentations become players.
Riley agrees with my trip's gear selection. "I find spinning reels work best when casting from the low position I work from. For clients, spinning is the only way. The learning curve for beginners is normally short and painless."
Kayak anglers must determine whether to settle for multi-purpose setups or more fishery-specific setups. Sit-in platforms call for spinning setups, while sit-on-top and standing platforms are most accommodating to casting. If the kayak has storage and holders, you'll be able to easily carry 3 or more rods as Riley does. Emphasize multi-purpose setups, if you can.
In terms of tackle selection, Riley recommends carrying the same type as you would in a boat but bring much less of it.
On these waters, Riley fishes jigs and plastics 75% of the time. He rarely ever uses lures with treble hooks.
"Treble hooks are dangerous and deadly," he says. "If I could stop using trebles I surely would as I believe some fish are being killed. They are also tough on clients. Nothing ruins a day on the water than when a client gets a hook injury and you have to figure out how to get them off the water."
Kayak Gear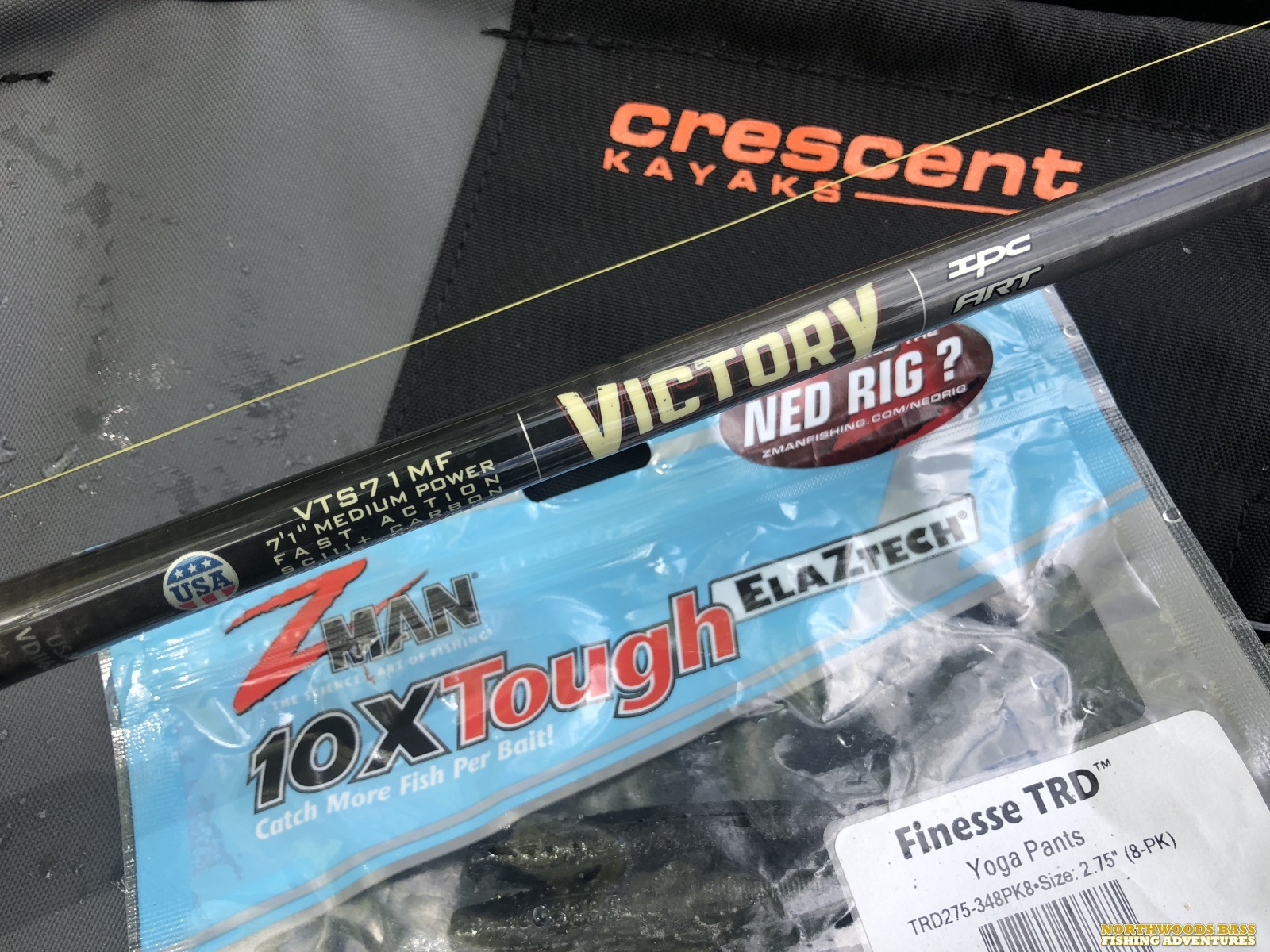 Riley was kind enough to share with me his best kayak fishing presentations and strategies:
Ned Rig – I like the Z-Man Finesse TRD's. For 2023 I will be getting my hands on some Berkley Powerbait Maxscent Lil' General Worms. I fish these with lightweight ned head jigs, sizes 1/16 to 1/8 oz.
Drop Shot – The key here is to learn to tie the rig properly. I like to use a ⅛ oz. drop shot weight and red Gamakatsu drop shot hooks with a Berkley Gulp! Alive, regular, or jumbo leeches. My number two go is the Berkley PowerBait MaxScent Flat Worm. I like this set up for working weed edges and deep water structure for both bass species.
Berkley Powerbait Maxscent The General Worm – As with all plastics experiment with colors and techniques. Helpful hint – If you run out of ned rigs cut these in half. Otherwise, fish wacky worm style.
Rebel Pop-R – My favorite topwater for trophy smallmouths. My biggest fish of the 2021 season hammered a Foxy Shad / 2 1/2″
Senkos – Try several sizes and colors. I love throwing these to rock piles and weed edges.
Paddle Tails/Swimbaits – There is a number of excellent baits available! Some of my favorites are the Storm WildEye Swim Shad, and Salmo's (if you can find them).
Rapala X-Rap – Considered one of the best smallmouth baits of all time. Again, try different colors. You can't go wrong with the Hot Head or Hot pink.
Googan Squad Scout – When my nephew out fished me one day using the Scout I knew I had to buy several more. They are excellent baits. Check out the pro-blue color.
Tube Jigs – There are so many great tube jigs out there and countless ways to rig them.
Hand Tied Marabou Jigs – When the fish are finicky, this is my go-to bait. I stick to black or crayfish patterns.
When you do hook up with smallmouths, landing them is so much easier from a kayak than in a boat.
Just don't make the mistake I did with rod tip up high, because I blew a 4 and a half pounder. Remember to keep your rod tip immersed into the water, so they won't jump.
A major difference I observe between kayak anglers and boat anglers is fish care. Kayak anglers are extremely careful and caring of the resource, prioritizing rubberized nets and frequent in the water releases. Many also equip their vessels with pole-mounted self-timer cameras and GoPro's to capture the moments. The entire demographic is catch and release anglers too, which is rare these days.
Ideally, you never want a fish out of the water for more than 10 seconds. "We do it as quickly as possible," says Riley. "Handle them as little as possible and use single hooks whenever you can," he adds.
All 40+ smallmouths with bonus pike I caught that morning promptly swam back to the lake, unharmed.
Why Kayak Fishing?
Lots to enjoy about it.
"For one, anyone can fish the tournaments!" boasts Riley.
The camaraderie with your fishing partners is special as well. "For the most part kayak anglers are willing to share their knowledge including other anglers to join them," he adds.
Third, "I think it is so affordable and simple. No gas, no insurance, and doesn't take up much storage space in the garage!" he concludes.
With a kayak, every off-the-beaten-path water has the possibility of being accessed from public lands.
"I have two boats and I still prefer to fish out of my kayaks. It could have something to do with getting older and really appreciating the natural wonders that abound in the outdoors."
"I spend hours on the phone and in front of my computer each month, so my kayak fishing trips are a wonderful, brief respite from all of the noise," Riley concludes.
That's my life off the water as well.
What a relaxing break from my fast-paced life this trip was.
Kayak Combat Smallmouths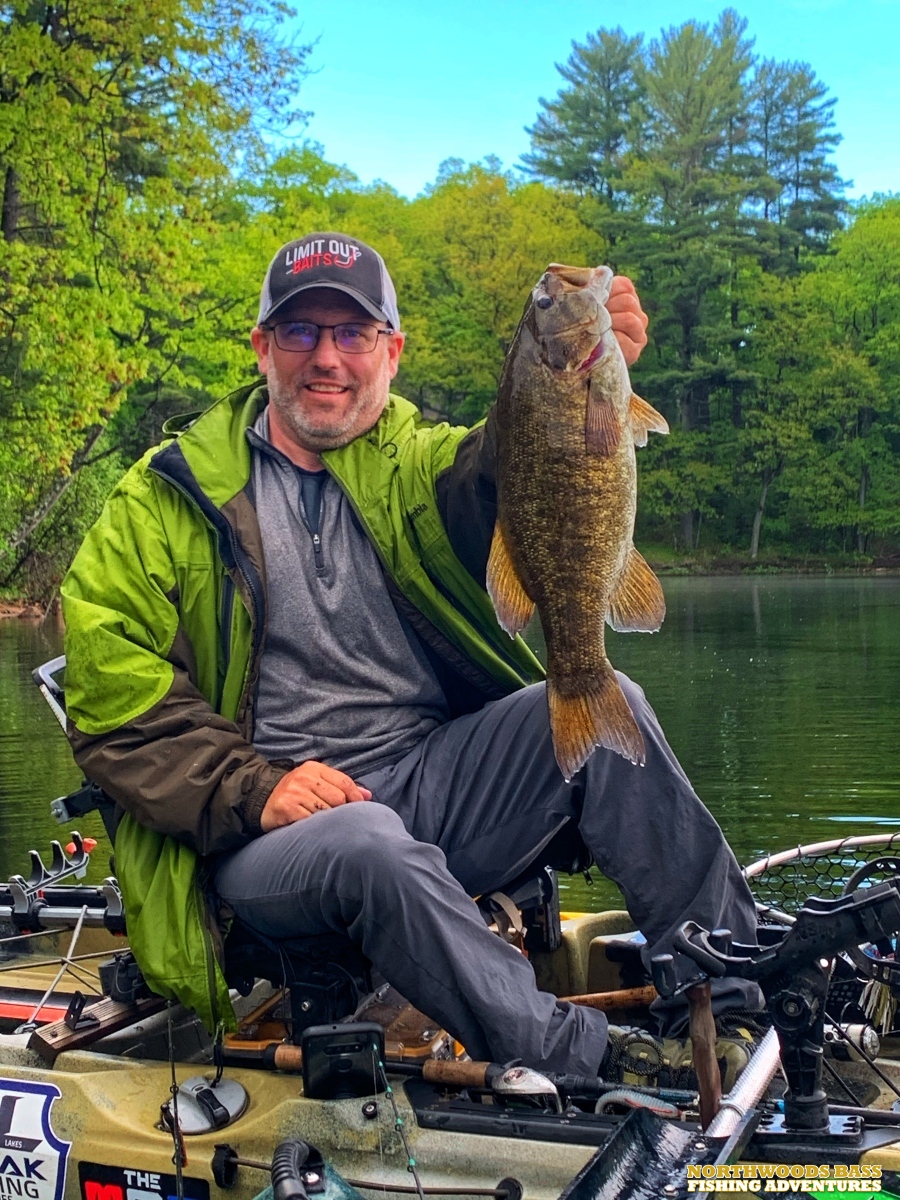 Image 1 of 6
Northern Wisconsin Kayak Fishing is a kayak fishing guide service based out of Vilas County, Wisconsin. Here in the Northwoods, we offer safe, exciting, and affordable fishing adventures. We cater to one or two anglers at a time. Call (406) 580-4036, or visit online at www.northernwisconsinkayakfishing.com
Northern Wisconsin Kayak Fishing is a kayak fishing guide service based out of Vilas County, Wisconsin. Here in the Northwoods, we offer safe, exciting, and affordable fishing adventures. We cater to one or two anglers at a time. Call (406) 580-4036, or visit online at www.northernwisconsinkayakfishing.com
Andrew Ragas splits time between the Chicago area and Wisconsin's Northwoods. Based in Minocqua, WI, he specializes in trophy bass fishing and offers guided trips from May thru October. While big bass is the passion, he dabbles in multi-species as well. He may be visited online at www.northwoodsbass.com
Gearing Up For Spring 2002
I am looking forward to the 2022 open water fishing season in the Northwoods. Last year was our inaugural year guiding kayaking anglers in our prime waters. I am headed into 2022 with much more extensive knowledge of the area's fishing hotspots.
I like to search for the hottest new baits hitting the market in the offseason. So, if you fish with me this summer, there is no doubt we will be throwing some of the baits featured in the photo above.
An update on bookings. June is quickly filling up; we still have several openings in May, July, August, and September.
Hope to see you soon in Wisconsin's Northwoods!
A Monster for Ned!
I have spent the last few summers in Northern Wisconsin scouting out lakes for my kayak fishing business, which I will be launching in May of 2021.  Last July was one of those scouting missions.  I could have never predicted what was about to happen on this particular scouting day!
It was an abnormally warm, early July morning.  As I paddled away from our family's dock on Crab Lake I noted how the water was dead calm.  I felt humbled by the beauty as I cut through the glass with the foggy mist still rising from the surface of the lake.  I had tied on one of my favorite smallmouth bass search baits.  I thought about topwater but for some reason preferred the silence of the lake.  It was a Ned Rig I opted for; a small 1/8 ounce jig with a short little strait rubber body.  The flavor today was " Yoga Pants."  The tried and true Yoga Pants color must resemble a leech creeping along the bottom of the lake.  The key to Ned Rig fishing is to fish slow and on or near the bottom.
Crab is my home water and I was looking for one of those monster smallies she is stingy to give up!  After a short paddle, I started to work the edge of a weed bed just off of a mid-bay island. Sure enough, I caught a few little guys, not the football-sized chunk I was hunting.  I decided to head towards another area that holds a substantial number of smallies.
My plan was to start at the tip of a point and work my way down the to its end.  I kept my distance from shore opting to take advantage of the thin braid that allowed me to cast long distances.  The first cast was headed towards where I hoped a big girl was laying in wait.  The Ned hit the water and I was waiting for it to sink and my line to show signs that old Ned had reached the bottom. I  would then  creep him back to the yak.  Sure thing, Ned stopped but to my surprise started heading down the shore!  I barely had time to load the rod and set the hook!  WHAM!  The rod stopped like I had snagged a submerged tree! Then the fight was on.
I knew this was no smallmouth.  I thought maybe a pike.  The setup I was using was no match for a big pike.  Ten-pound braid with an eight-pound floro leader would surely fail.  A funny thing happens when you hook big fish from a kayak; the kayak acts as a secondary drag!  This fish was actually towing me a bit. After about fifteen minutes a good-sized muskie came up from the depths like a submarine.  There was no way I was going to land this beast… Nor did I want to at this point.  I reached for my Iphone and started snapping photos. I noticed my Ned in the corner of the bruiser's mouth and with one shake of her head she was free!
I doubled timed it back to the cabin and woke the family to share my fish story!  Lucky for me I not only had the story but the photos to prove it.
This big-toothed muskie hit this pint-sized Ned Rid!